What's cuter than babies? Nothing. But baby stuff comes in a close second. I've gathered up a list of all kinds of adorable sewing patterns for babies from some of the best bloggers out there and I'm sharing it all with you!
Whether you are sewing up something special for your own little one or searching for the perfect baby shower gift to make then you're sure to find something cute in this list of free sewing patterns for babies.
I've divided all the baby sewing patterns up by category to help keep things organized. Simply click on the link to the pattern you like and it will take you over to the page with the pattern on it.
20 Sewing Patterns for Babies
Bib Patterns
Bib Pattern for Beginners: This is my go-to bib pattern. I drew this one out a few years ago, tweaked it about 2 years ago and I love it! I hope you do too.
2. Bib with Ties: Lisa from Cucicucicoo has a free bib and burp cloth pattern using bias tape which I think gives them a nice pop of color. I love all the options she shares in her tutorial.
3. Bandana Bib: For something a little different try my bandana bib pattern.
Burp Cloth Patterns
4. Burp Cloths Using Cricut Maker: Have a Cricut Maker? Chelsea from Sew Simple Home has a free svg pattern for you to use your Cricut Maker to cut out your burp cloth pieces for you! It doesn't get much easier than that.
5. Half Contour Burp Cloths: I make a lot of rectangular burp cloths but designed these diy burp cloths with a contour on one side so that they will sit nicely on your shoulder.
Baby Clothes Patterns
6. Baby Shorts: Heather from HeatherHandmade has a pattern for baby shorts or bloomers in sizes 3, 6, and 12 months.
7. Easy Baby T-Shirt: Make a baby t-shirt using this pattern from Angel at Fleece Fun. The pattern is for sizes 3 months to 18 months.
8. Baby Romper: Heather from HeatherHandmade has a tutorial for how to turn a t-shirt into a romper with a romper pattern (size 6 months). I love this idea! We get so many free t-shirts and I think this is a good use of those.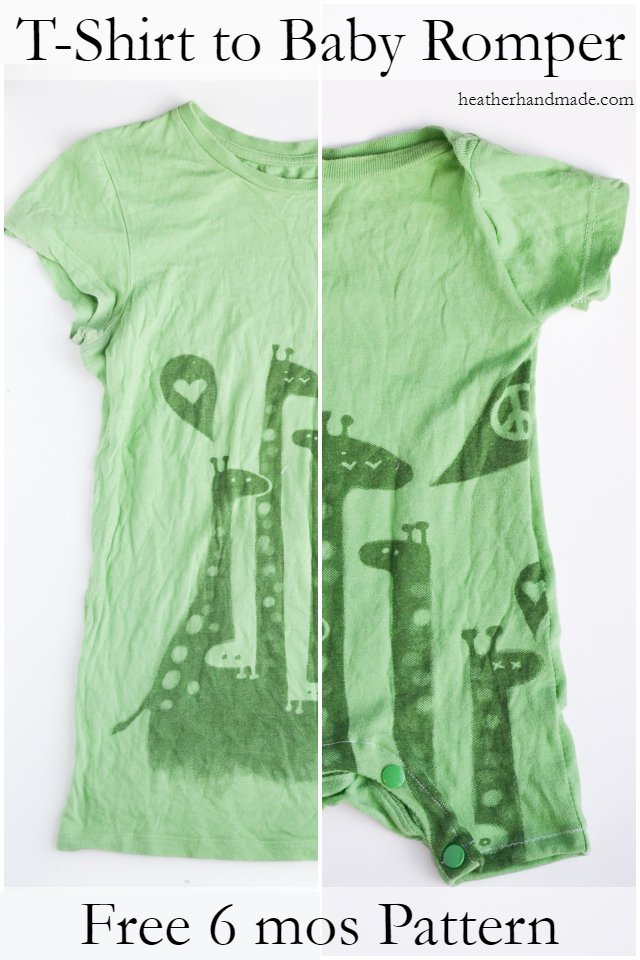 9. Party Dress: I love the cute Holly and Ivy Party Dress Pattern by Chelsea from Sew Simple Home. It comes in infant size 0-3 months.
10. Baby Sundress Pattern: This super cute knit dress pattern comes in sizes 3 months to 18 months and is from Angel from Fleece Fun. She even has a video tutorial for it!
11. Baby Romper Pattern: The ruffles on this romper pattern by Emily from Life Sew Savory are to die for! The romper comes in sizes 0-12 months.
Baby Toy Sewing Patterns
12. Rainbow Soft Rattle: How goreous is this cheerful rainbow rattle from Stephanie at Swoodson Says? I love this sweet litle baby gift.
13. Crinkle Taggie Toy- I love any project that helps me use up little bits of pretty fabric leftover from other projects and this crinkle taggie toy by Lisa from Cucicucicoo one is a great use for sure.
Baby Blanket Patterns
14. Four Square Baby Quilt: Shelly from Coral + Co always makes the cutest stuff and this Four Square Baby Quilt is no exception.
Patterns for Other Baby Stuff
15. Stretchy Car Seat Cover: This amazing car seat cover pattern is by Angel from Fleece Fun.
16. Petal Hat: This Petal Hat by Chelsea from Sew Simple Home is such a cute little hat for summer! It comes in 3 sizes: Small (3 months to 6 months), Medium (6 months to 12 months), and Large (12 months to 24 months).
17. Baby Hats: I had one winter baby and it was always fun when he had a cute little hat to coordinate with his outfit. Shelly from Coral + Co has a baby hat pattern for size preemie to 12 months that I love.
18. Baby Shoes: Heather from HeatherHandmade has a pattern for the most adorable upcycled baby shoes. The tutorial even has a video to show you how to put it all together.
19. Baby Headband: Little tiny baby accessories are just the cutest. This baby headband pattern is by Shelly from Coral + Co and I think a coordinating batch of these would make such a cute baby gift.
20. Baby Changing Mat: I love this simple changing mat project by Vicky from Vicky Myers Creations.
Did you find a sewing pattern for babies that you like? Let me know in the comments below!
Want more baby sewing projects? Check out my list of 14 Baby Gifts to Sew.