I know, I'm two days late on my healthy mama post, but I'm excited to finally share a few things with you all!
First up, as I mentioned last week, I want to run a 5K, and I have finally picked one! I am running the Flap Jack & Jill 5K & 15K. I will be running the 5K race, not the 15K. Baby steps, people!
Yes, yes, I did pick a race that also includes an all you can eat pancake breakfast. No judging!
The date is good, the course looks fun, and it supports the Cuyahoga Valley National Park, which we love.
I registered this morning and I'm excited to begin training. I'll be following the Couch to 5K training plan since it has been a while since I have run consistently.
On days when it is too cold to run I'll be doing a cardio workout on the elliptical in the basement.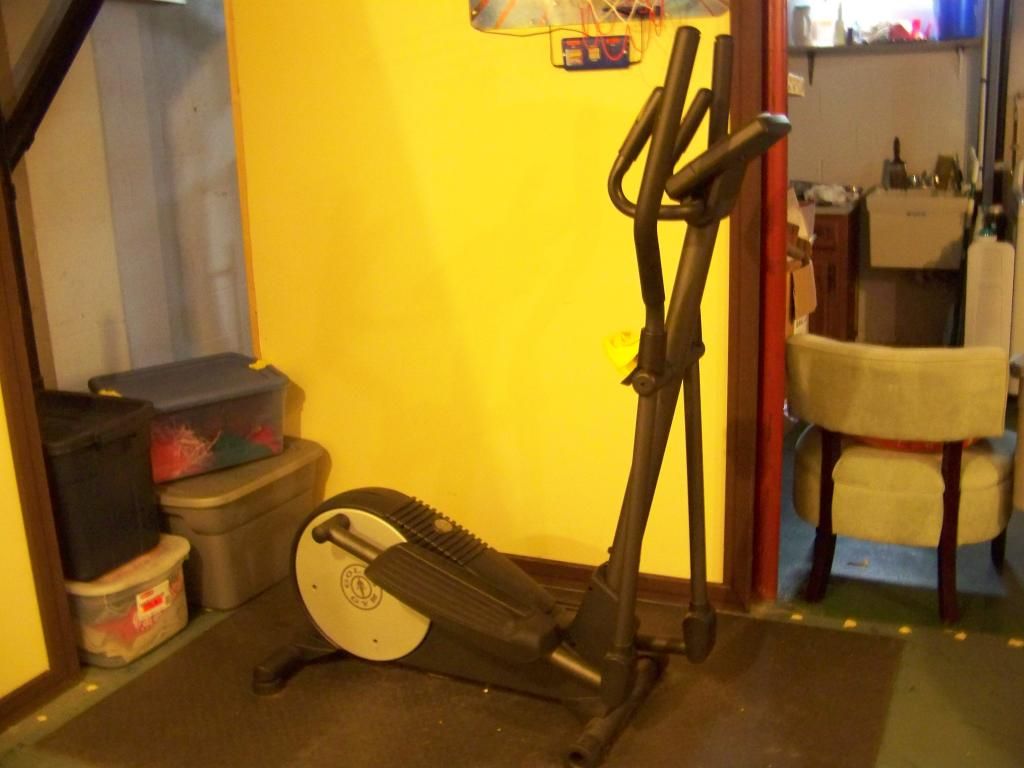 You may have seen my elliptical a time or two before. I have a Gold's Gym Stridetrainer 380 Elliptical Trainer
. My mom got the elliptical for me nearly 2 years ago in exchange for making a quilt for a family friend. I had mentioned to her that I was thinking of getting one so that I could workout here in the winter when it's snowy and frigid. And for nearly two years it has been so helpful to have this option available to me when the weather is bad.
For an inexpensive elliptical that this one is decent. If you are thinking of purchasing this or any other elliptical there are a few things you should know.
This was a BEAST to put together! So be ready for that.
Get an elliptical that plugs into an electrical outlet in the wall. This one uses D batteries for the screen and resistance settings. And there is no off button so it wastes a ton of battery life waiting a few minutes to shut off after it no longer senses activity.
It must be tightened up and oiled periodically, so keep your little Allen wrenches and oil somewhere where you can find them.
Shop around for the best price. Amason, Walmart, and a couple of places sell this one. My mom got it at Walmart because it was the best deal at the time.
Overall, I like this elliptical. It has some drawbacks but it more than meets my need and was a good price. And since I've signed up for a race but it's still freezing outside I'll be spending some quality time with the elliptical this week as I begin training.
Oh, and I almost forgot! The weigh-in:
Since I last checked in one week ago I have lost 0.6 pounds or 0.4%. Since beginning my challenge 20 weeks ago I have lost 9.6 pounds or 5.5% overall.
I have a few weight loss goals-
Get to a healthy BMI (1.4 pounds to go)
Get to my pre-pregnancy weight (3.4 pounds to go)
Get to my pre-marriage weight (8.4 pounds to go)
Total Weight Loss Goal {Get back to my ideal weight} (18.4 pounds to go)
(Please note: Some of the links in this post are affiliate links, which means that if you click on a link and make a purchase I will receive a small commission. Thank you for supporting the blog! Read my disclosure policy here.)