So I love a good party. I love decorating, and cooking for people, and presents. And I love making parties special for my boys. But they're little. And so while I would LOVE to go all out for their parties, I realize that at their young age I can make birthdays special without going crazy. And I'm no Martha Stewart, either. So here's a peek at baby S's recent first birthday party and a look back at A's first birthday too, just for fun.
The theme for baby S's first birthday was "You are our Sunshine". He's an amazingly happy, contented kid. And so I thought I'd make that our theme, since it fits him. I got this printable on Etsy from westwillow. When I get a chance I plan to print it out in a slightly larger size and hang a nice print of it in his room.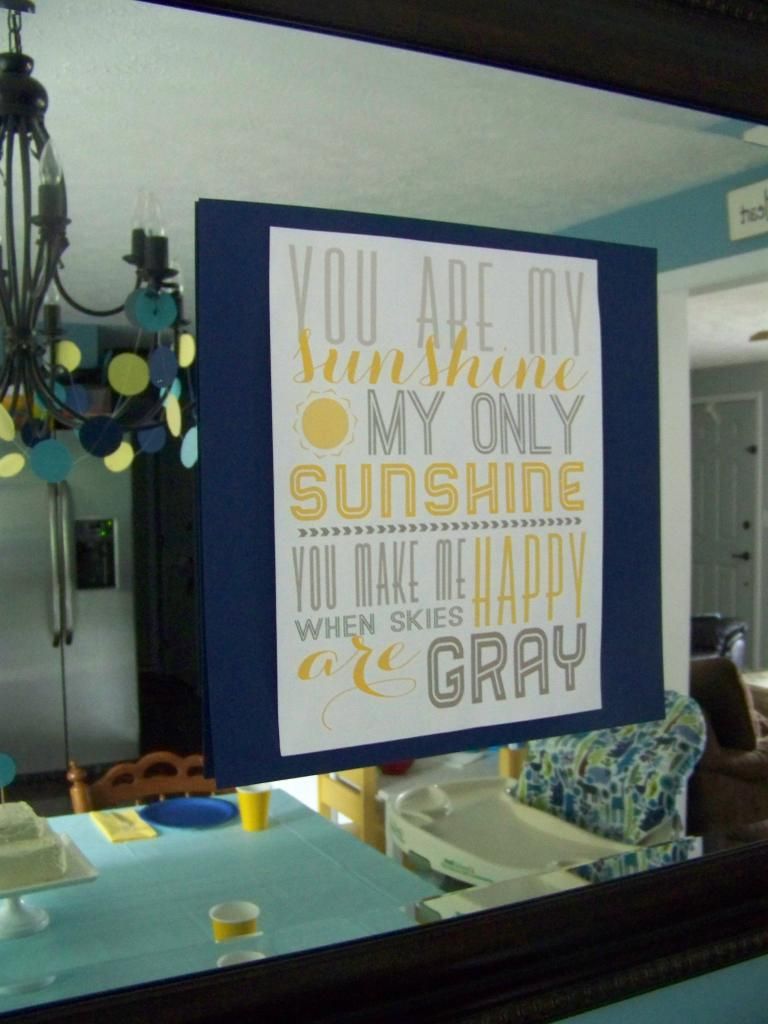 I decided to keep things pretty simple by using the printable as a jumping off point and adding in a few coordinating colors. A light blue, dark blue, yellow, and gray. Ironically, the skies were rather gray the afternoon of his party, so the lighting in these pictures is awful.
For the garland on the chandelier I got some scrapbook paper from Hobby Lobby and cut out circles. Then I ran the circles through the sewing machine to connect them all. This little craft did not take too long, and I'm glad I did it. Little S pointed up at it and made some happy noises when he saw it, and still loves to look at it when he's sitting in his high chair. Yes, I still have yet to take it down. Gotta get my money's worth out of it! You know, the whole dollar or so I spent on it.
I kept the cake simple too. I don't like the taste of fondant, so I don't think I will ever use it except maybe sparingly in embellishing a cake a little. I do need to work on my frosting skills, though. Getting butter cream to look good can be difficult. But, the guest of honor didn't seem to care as he launched face first into the top layer, which we removed and gave to him as a little smash cake. At one point he even laid his head down into it and gave it a hug!
This birthday was very similar to A's first birthday party. Same Birthday banner I originally made for A's first birthday. I pull it out for all of our birthdays, it's one of our family traditions.
The table decor was a little bit busier. I used a First Birthday Boy set from Party City.
Instead of a garland, I made some tissue paper poms.
I also made A's cake. The frosting was a little more purple than blue, but since then I've learned that the natural food coloring products can be a little off depending on what you add it to. But again, imperfect and all my baby boy dove right in and enjoyed himself.
I know that none of these images are Pinterest-worthy, but my advice is to mamas of little ones turning 1: Enjoy yourself, make it special for your little one, but don't feel the need to go crazy. Your little one is going to love it, even if it's not picture perfect. Keep it simple, sister!