So our baby turned one recently. Having gone through the first year for the second (and probably last) time I wanted to make a little list of things that we love while it's fresh in my mind. So preggy ladies and new mamas, this list is for you! Every family is different and even my two babies were different, so keep in mind that what worked for us might not work for you. But it's always worth a try, right?
1. Earth Mama Angel Baby Earth Mama Bottom Balm– There are lots of less than pretty things that go on after giving birth and this balm helped with some of the pain that came from all of that. It was a lifesaver!
2. SwaddleDesigns Ultimate Receiving Blanket– These are the SOFTEST swaddle blankets and they're huge compared to the little receiving blankets. Having a bigger babies, I would not have been able to swaddle so well without these blankets.
3. Playtex BPA Free Ventaire Bottle– Finding a good bottle for your kid can be a bit of trail and error. Both of my sons had acid reflux and these bottles were such a help!
4. Infantino Twist and Fold Activity Gym– This was so much fun for both boys and I loved how cute it was. I recently put it into a pile of toys to donate and I haven't been able to donate it yet. I just don't want to let it go! It's too cute and has too many memories.
5. PINXAV DIAPER RASH CREAM– This is the diaper cream that our doctor recommended to us and it's awesome! My boys have sensitive skin and sometimes have diaper rash and this stuff is amazing at making it go away fast. It's super thick and creamy which helps it to work so well.
6. BumGenius Elemental All in One Cloth Diaper– We cloth diaper and these are some of our favorites.
7. Ju-Ju-Be Be Fabulous Earth Leather Diaper Bag/ Skip Hop Diaper Bag- I've had 3 different diaper bags over the past 3 1/2 years. One was given to me as a gift so I used it initially but didn't like it. Then I got my Skip Hop Duo Deluxe Diaper Bag and used it for 3 years. I liked it, but it was getting a little beaten up and I wanted a new bag. It did not help that a bottle of baby Tylenol exploded in the bottom of the bag making everything sticky. My husband sent me an email from work one day with a link to a Woot sale asking if I wanted one of the diaper bags on sale, and so I sprang for the Ju Ju Be Be Fabulous. I've only had it a few months, but so far I love it for this stage of carrying around 2 kid's stuff. Different people prefer different things. My advice is to try on bags to try to see what you like, but I don't think you'll really know what size/style you'll like until you live with one for a while.
8. Graco Pack N Play– We got a very basic Pack n Play and we have loved it. We really did not feel a need for all the bells and whistles and I'm glad we didn't spend the extra money on those because this one suits all of our needs. This has proven invaluable when we travel. Worth its weight in gold.
9. Mobicam DXR Digital Monitoring System
– We LOVE having a video monitor. It's especially helpful when your little one starts climbing out of the crib, but we love being able to watch baby from the beginning.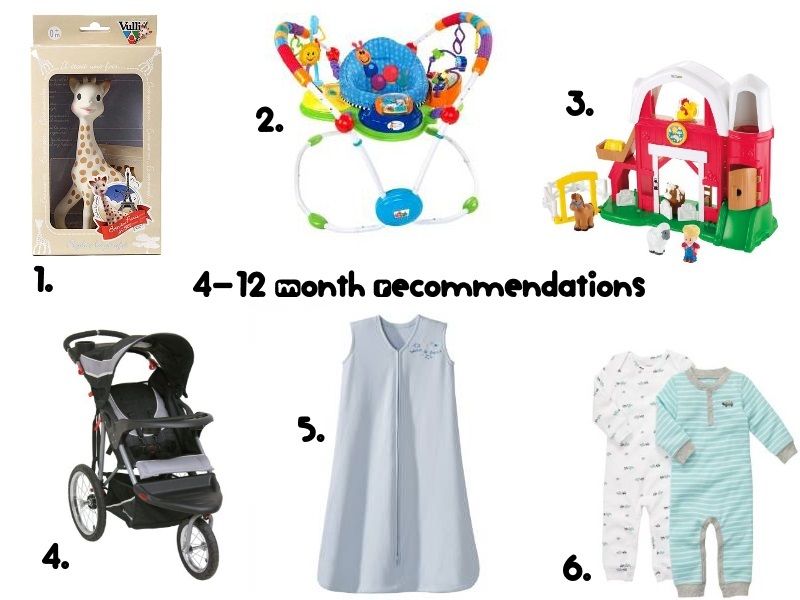 1. Sophie the Giraffe
– Both my sons loved their Sophies. She's pricey, but my boys preferred her over other teething toys.
2. Baby Einstein Musical Motion Activity Jumper
– Again, a pricier item, but both boys loved this exersaucer. If money is tight, take a look at second hand stores and yard sales. I was able to score a similar exersaucer for my niece for only $5 at the Salvation Army Store.
3. Fisher-Price Little People Farm
– There are new versions of this almost every year, but no matter the version I think most kids love this. It's certainly a favorite around our house.
4. Baby Trend Expedition Jogger Stroller
– I ran a lot in order to lose the baby weight after having my first son and I still run from time to time. I've heard nothing but fantastic things about fancier strollers like the BOB, but I simply did not have the money for one that nice. For the price, this one has held up really well. I even do trails with it. I like this better than the travel system stroller that we have and I use it as my main stroller.
5. HALO SleepSack
– Both of my boys started busting out of their swaddles at about 4 months and so we transitioned them to Sleep Sacks. It helps me not to worry about SIDS and I like that no matter how much they move around in the crib, they are still covered.
6. Comfortable Cotton Clothes
– It's fun to dress baby up for going out but most days I loved putting my sons into cute cotton one pieces.
Anything you other mamas love out there? Anything you'd especially like to recommend?
(Please note: Some of the links in this post are affiliate links, which means that if you click on a link and make a purchase I will receive a small commission. Thank you for supporting the blog! Read my disclosure policy here.)