Well, it's still cold here. And there's still snow everywhere. Sigh. Spring will come some day, right?
So it's week 3 of my "soup" diet. I'm not really on a soup diet, but in an effort to have something healthy that is a convenient meal for me I have made up a big pot of soup at the beginning of the week for the past three weeks. The first week I made Chicken and Vegetable Stew and last week I made Pasta Fagioli. I love that when lunch rolls around I have something that I can just "heat and eat" that is a healthy choice. This week I decided to try a soup from my mother-in-law's recipe box, a basic potato soup. I modified it to add in some more veggies and changed the seasonings a bit. Here's what I came up with: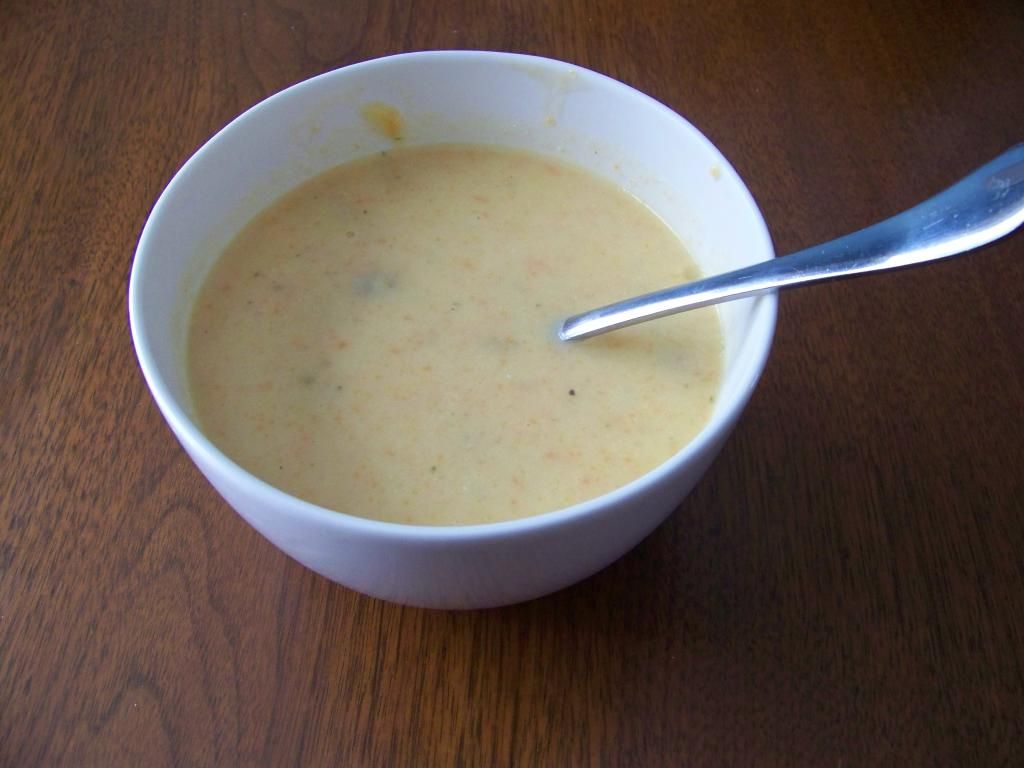 Potato & Cauliflower Soup
Ingredients:
1 medium onion
4 stalks of celery
4 Tablespoons of butter
6 Russet potatoes, peeled and cubed
8 carrots shredded (notice that some of mine are quite small)
1 head of cauliflower, chopped
2 32 ounce containers of chicken broth
12 ounces of sweet Italian sausage
1/2 teaspoon of garlic powder
1/2 teaspoon of Spicy Montreal Steak Seasoning
1 teaspoon of parsley
salt and pepper to taste
Directions:
Get all the prep work out of the way. Chop the onion and celery, peel and shred the carrots, peel and cube the potatoes, and chop the cauliflower. I may or may not have had the theme from Small Potatoes stuck in my head as I was washing and chopping them. A loves the Small Potatoes and runs around singing their songs all the time lately.
2. Take the sausage out of its casings (you don't have to do this if you bought bulk, but mine has casings) and brown the sausage until it is cooked all the way through, breaking it up with a wooden spoon as you cook it. Take the sausage out of the pan and set aside.

3. Saute the onion and celery in the butter until tender.
4. Add in the potatoes, carrots, cauliflower, seasonings, and chicken broth. Bring to a boil, then lower the temperature, cover and simmer for 30 minutes (until your potatoes are tender).
5. Use the immersion blender to blend everything up together. If you prefer for it to be chunkier, blend it a little less.
6. Add in the sausage and evaporated milk. Warm the soup through at a low temperature and then serve. Do not let the soup boil after you add the milk!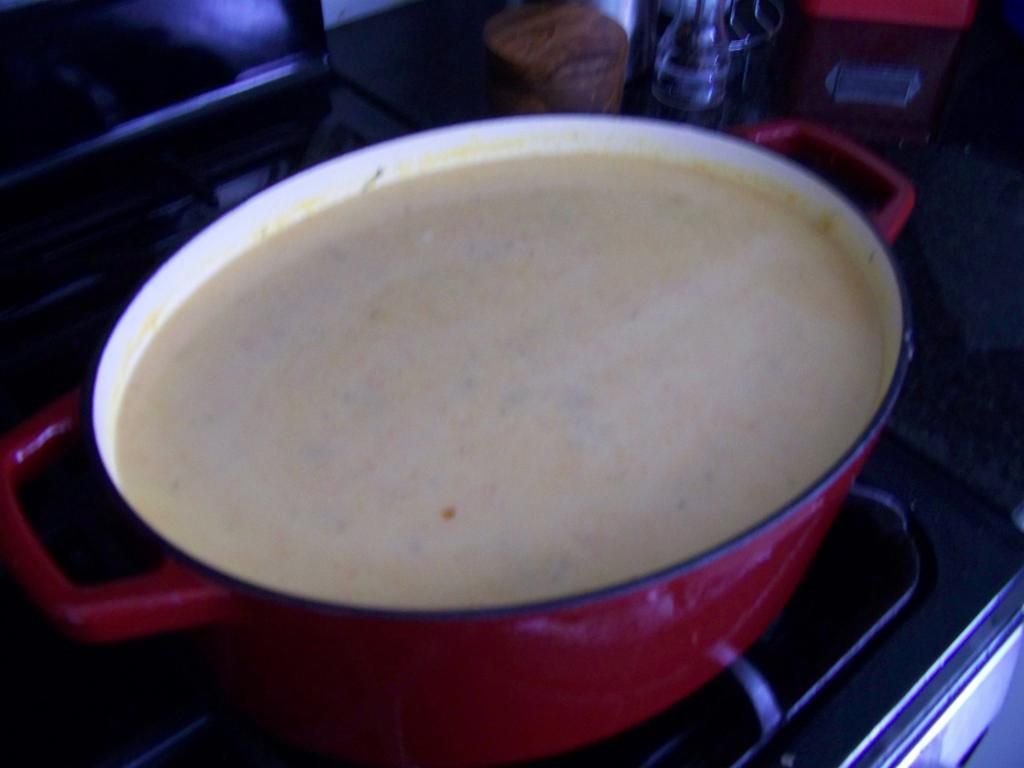 Nutrition Information
Servings: 15
Serving Size: 1 cup
Calories per serving: 176
I used SparkPeople's Calorie Counter to help me calculate the calorie content for some of the items that I did not know. Keep in mind that I'm no food chemist, but I this should give you an idea. Generally speaking, we fill up our soup bowls when we have this as our meal and our bowls hold about 2 cups of soup, so for us it's about 352 calories for a large bowl full. I like this recipe, but as I was eating it yesterday I was thinking that I might swap out the sausage for bacon next time.
Give it a try and let me know how you like it!