I shared last week all about my son A's spider costume and today I'm showing you what Baby S's skunk costume.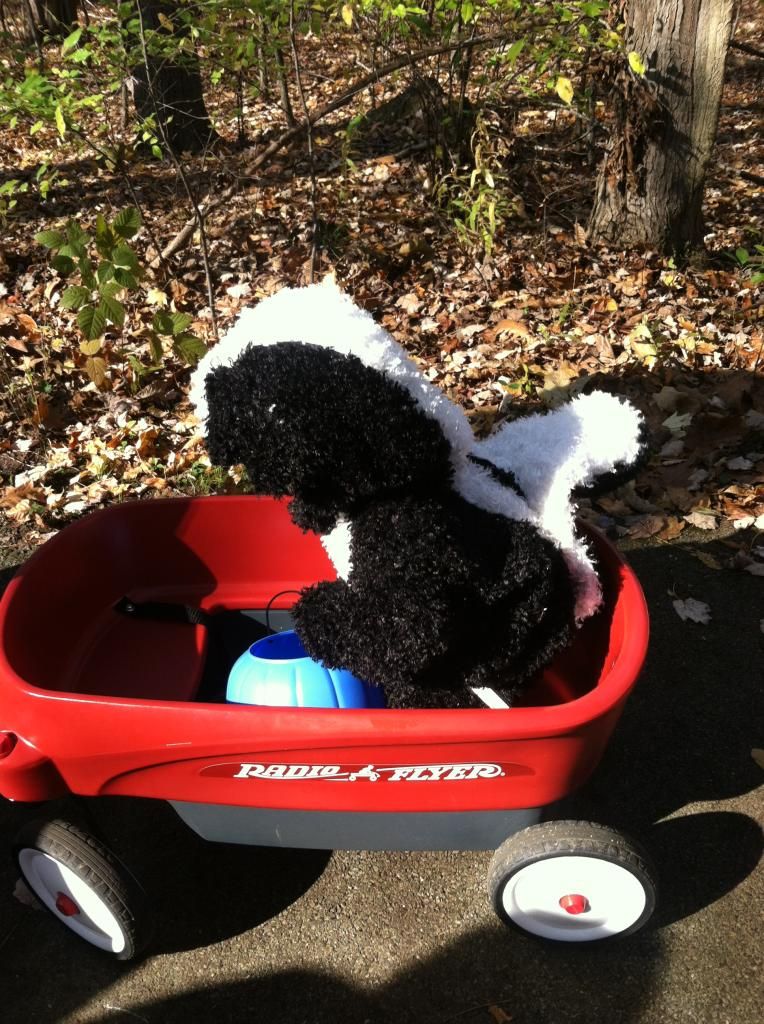 I used a Butterick pattern for animal costumes (It has options for a dog, dragon, etc.) and modified it some to make it a skunk. Like A's spider costume I was inspired by Pottery Barn kids again. This is their skunk costume:
But their costume was expensive. I don't remember the exact price and the website just says "not available" now but I think it was like $50. I made my version to have sleeves and legs (like the pattern) because Halloween in Ohio can be quite cold and so I wanted the costume to be warm. Cold was not a worry when we took the kids to Trick or Treat at the Park on Saturday. It was gorgeous!
A walked and S rode in the wagon. S loves the wagon and we thought it would make things easier than trying to corral him if we let him ride instead of walk. We let him loose on the playground after we completed the trick or treat trail.
I tried to get a few shots of him standing in his costume, but he doesn't stand still too much these days so all the ones of him standing are in motion shots and so they're all blurry.
So let's talk turkey.
How much time did this take?
A decent amount of time. Lots of cutting, pinning, and sewing. And the adorable silky curly-hair fabric that I chose was difficult to work with. Fake fur was flying everywhere. But it wasn't too terrible. And if you really wanted to make things easier on yourself you could make the black parts of the costume out of fleece and just use fur for the white parts (like Pottery Baarn kids did).
How much did this cost?
black fur (1 3/4 yards)- $11.80
white fur (3/4 yard)- $5.05
velcro- $2.99
Total (including tax)- $19.84 (You could do this cheaper, especially if you chose to use fleece for the black parts but I loved the curly fur)
What are your kids dressing as for Halloween? I don't even remember why we thought of this costume for him but I thought it was absolutely adorable. And he didn't hate it either which was great.