We love the zoo. Any zoo. Even the petting zoo. When I made up my Spring Bucket List of things I wanted to do together as a family, I knew that I wanted to include a trip to the zoo. My husband generously got our family a zoo membership so that I can take the kids any time that I want, which is super exciting. We live the closest to the Akron Zoo, which is by no means a large zoo. It's no Columbus or National Zoo, but it is a very pretty zoo and always enjoyable for my 3 year old son.
So what do they have at the Akron Zoo? As I said, it's not a huge zoo, so they don't have every animal under the sun (no giraffes, hippos, or elephants) but they do have a good variety. There are lions, tigers, and bears. Last year they opened a new area of the zoo, Grizzly Ridge which features grizzly bears, otters, and other North American animals. My son's favorites are probably the penguins.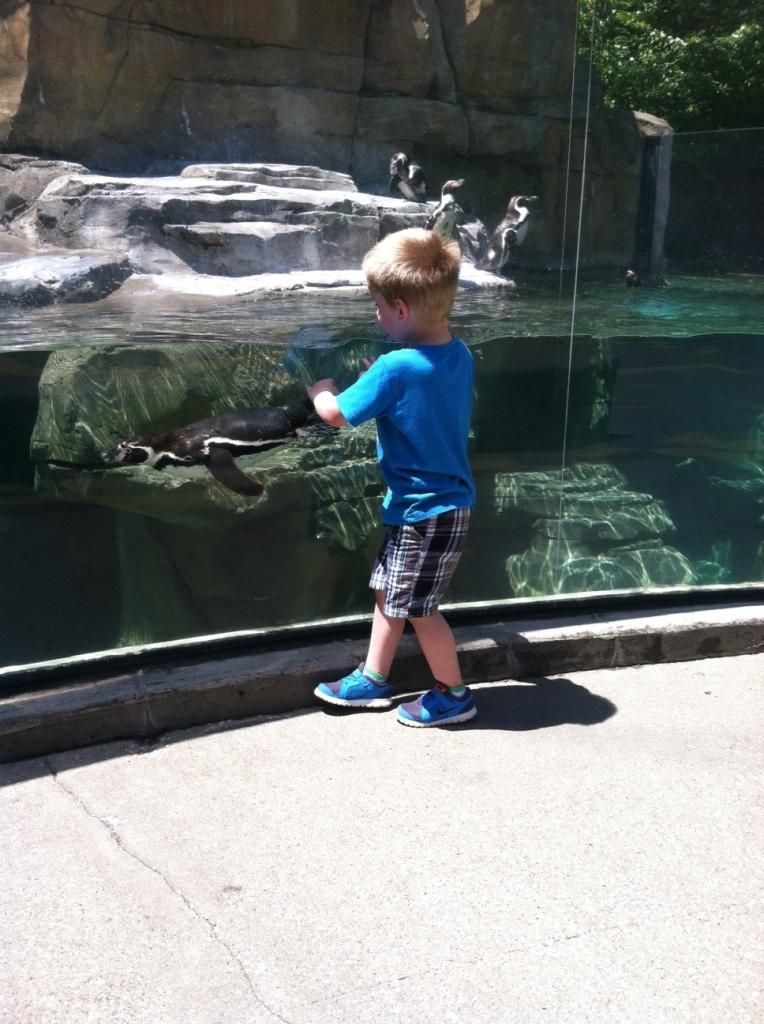 The penguins are very active and my son thoroughly enjoys interacting with them. They will follow you back and forth, playing a sort of a game tag with you, which is always good for a few laughs. We also enjoy watching the zookeepers feed the penguins.
My son's other favorite is the indoor Reef Exhibit. He loves sea creatures, especially the jellies!
Overall, I love our little zoo. It's a beautiful place for us to go to get out of the house, stretch our legs (there's lots of hills!), and enjoy some animals. If you life in the area, and you enjoy the zoo, I wholeheartedly recommend a family membership. It's $75 for a family. Members get various perks, including free parking. For us to visit the zoo one time would be $33 for our family, so I'll gladly take a years worth of trips to the zoo for only $75.
If you're looking to visit the Akron zoo for the first time, here are some of my recommendations:
Make sure you have sunscreen & hats for every one. There is some shade, but there is a lot of area that's not covered.
There are a lot of hills, so be prepared to walk up them!
The zoo is most crowded in the morning, and things seem to taper off around 1 in the afternoon
There is a cafeteria but the options are expensive and limited, so pack your own lunch and snacks. There are plenty of places to eat.
There are a few extras for kids to do- a train ride and a carrousel- but these cost extra, so if you're interested in these, bring a few dollars in cash
You can rent a stroller if needed, but I always just bring my own
If the zoo is crowded, try going through it "backwards" instead of following the crown to the left by the penguins, head through the tunnel to the right by the flamingos and head to the back of the zoo first.
Have fun!