Bringing home a baby is a time of many big changes. Your lifestyle changes (goodbye, sleeping in!) and your heart will never be the same again. It's also time to start thinking about making some changes in your home.
You have only a few months before that little sleeping lamb starts moving around and exploring. Ideally you should baby-proof before baby is crawling. Here's 7 simple steps to help you get your home ready.
1. Set Up Baby Gates
One of the easiest way to keep baby out of places that he or she shouldn't be is to use gates. It's also essential to install gates at the top and bottom of any stairs. We have gates at the top and bottoms of our stairs and it helps to give me such piece of mind. Our favorite is the gate
at the bottom of our stairs.
We also have this gate
at the top of our stairs and it works well it's just not as easy to open and close. Make sure that any gate that you have at the top of the stairs is hard mounted (anchored and screwed into the wall) and not just pressure mounted. Also be sure to follow any and all installation instructions that come in your manual.
2. Install Drawer & Cabinet Latches
All of our kitchen cupboards (minus one I let the kids have to play in) and bathroom vanity cupboards have safety latches installed on them. This prevents them from getting into a variety of dangerous things such as utensils and it keeps them from making a mess. We have the Safety 1st Wide Grip Latches
.

3. Add Door Knob Covers
We have two kinds of door knob covers and they both work well. We have one on our basement door (pictured below) and our upstairs bathroom doors to keep our little one out without having to put up a gate since we go in and out of those areas so often. This American Red Cross knob cover
is the one on the basement door and these door knob covers
are the ones we use on the upstairs bathrooms. Our 4 year old still can't operate the one for the basement door so I'd say they're pretty effective. I should also mention that the basement door has a deadbolt lock as well so we feel like the knob is perfectly effective at keeping our little one safe since he would have to undo the lock even if he was somehow able to learn how to operate the knob cover.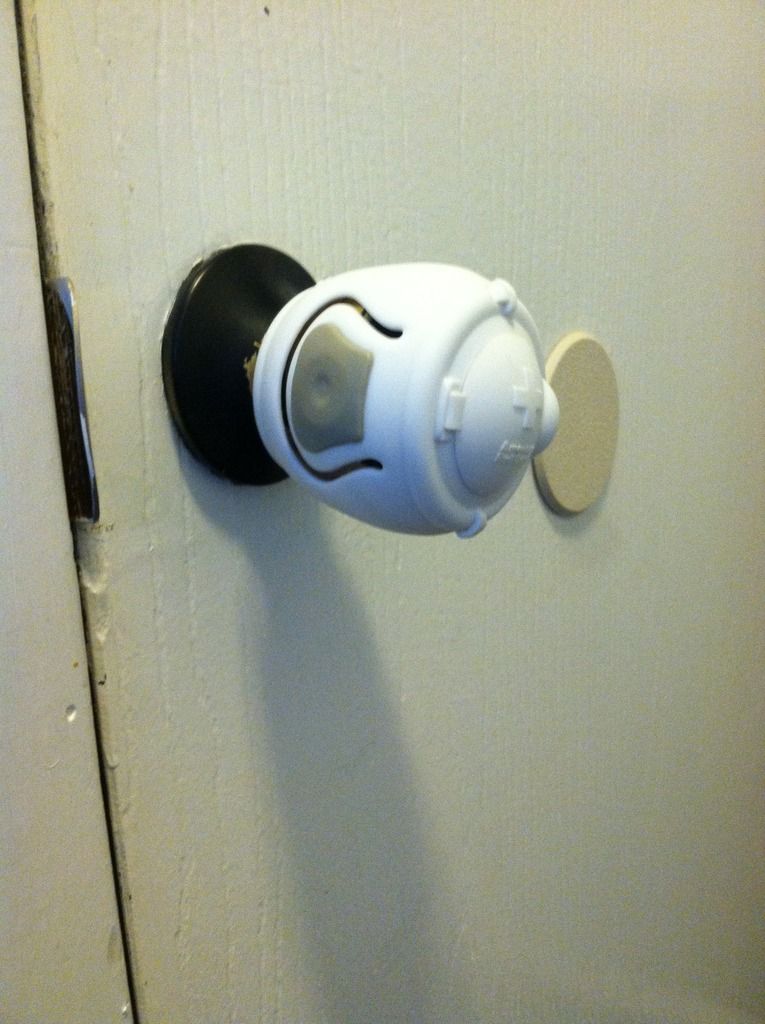 4. Tether the Big Stuff
Every year thousands of children are injured and hundreds are killed in accidents involving furniture tipping over according to the CPSC. In light of such knowledge we invested in some Safety 1st Furniture Wall Straps
. We installed them on any furniture I was worried about tipping (book shelves, dressers, media cabinet). If you're having a hard time visualizing exactly what these straps are watch this short video that explains how to install them:
5. Lock up Medications & Chemicals (Cleaning Supplies)
According to Poison Control, half of all their calls (thousands each year) are for children under the age of 5. Most of these children have ingested medications, cosmetics, or household cleaners which can all be dangerous. In order to prevent this in your home it is a good idea to have all medications, vitamins, cosmetics, and cleaning supplies out of the reach of children. We keep all of these in cupboards that have safety latches but for medications we actually keep them in a locked box inside a cupboard. It's a bit of a pain, but my older son once told me that the ibuprofen he saw me take looked like a candy so I'm not taking any risks. You can purchase medication lock boxes online. I actually just keep ours in this Master Lock Locking File Box
.

6. Secure the Trash (or Any Other Hazards)
Our first-born did not get into the trash. Baby S on the other hand has been pretty persistant about trying to get in there. So we ordered these latches
just a few weeks ago and we LOVE it! You just squeeze the sides of one of the squares and it pops open.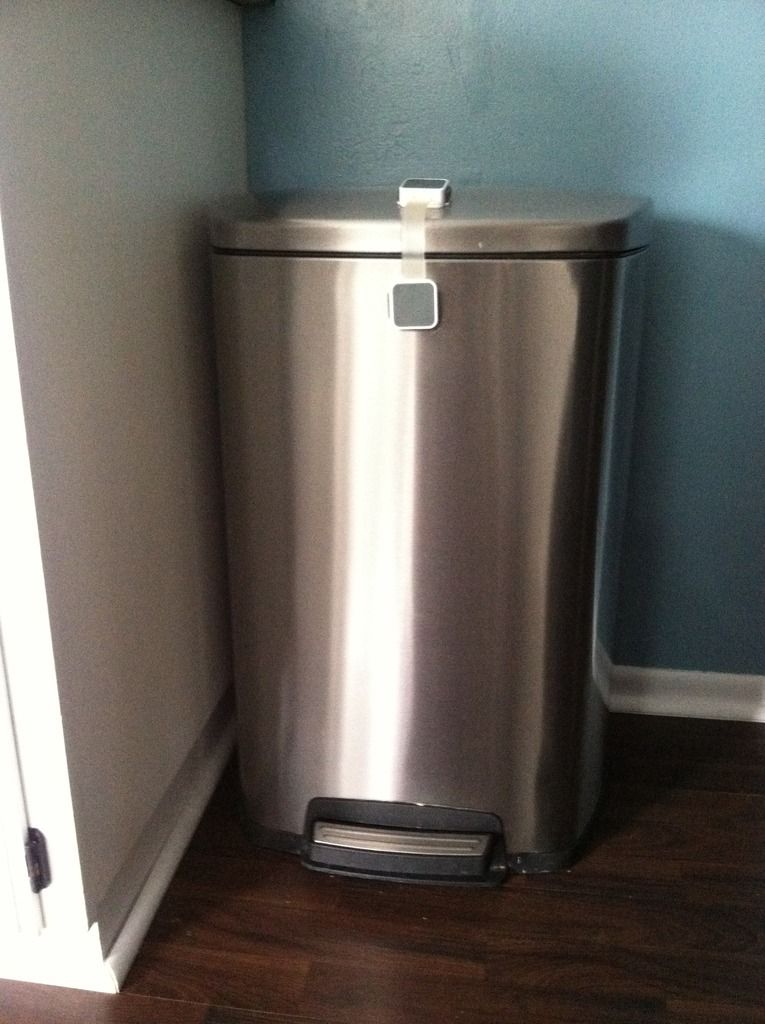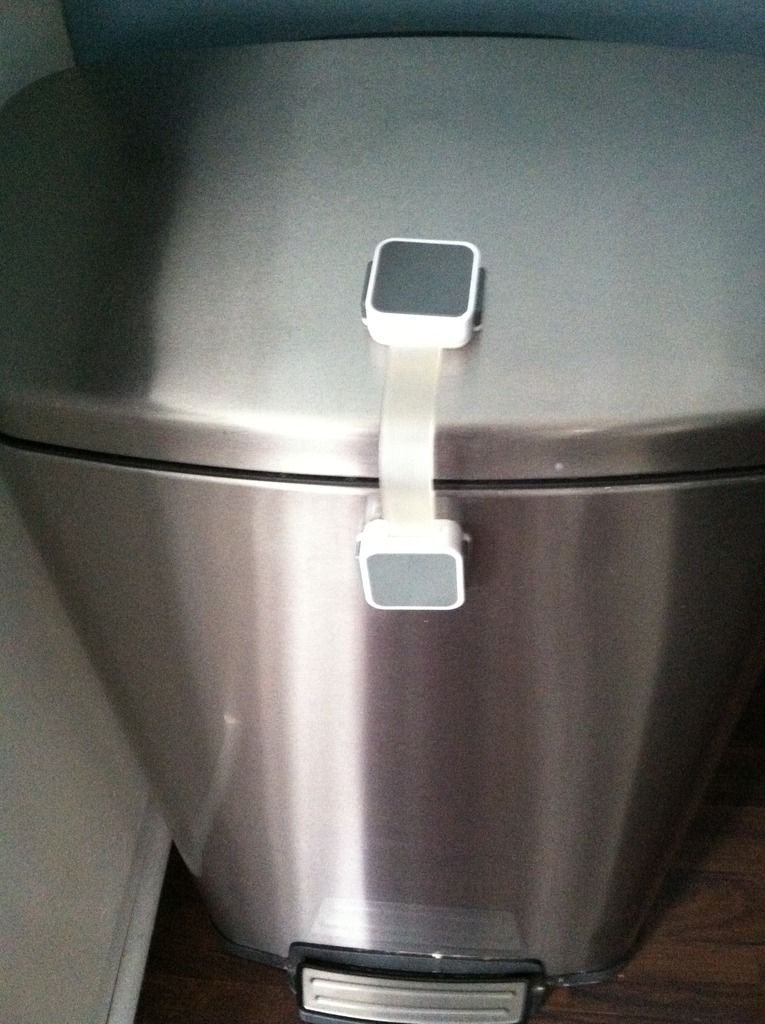 Now you may not have a little trash man like we do but think about any other potential hazard that your child could get into- dog food, fireplace, etc. Try to make sure you cut off their access to anything that might be hazardous.
7. When in Doubt, Take it Out
If you feel something might be a hazard to your child and you can live without it just remove it. We used to have a coffee table in our living room but worried about the sharp corners so we took it out and eventually replaced it with an ottoman. Currently our 18 month old can't get enough of climbing on everything so we removed 2 dinning room chairs and pushed the table against the wall to prevent him from climbing up on the table. It's a pain to bring one of the other chairs in from the other room for dinner each night but in this long winter where we are not getting out much it's worth it to me not to have to chase him every single time.
Now some people might argue that I shouldn't remove the temptation (the chairs) and that I should just teach him not to climb. We did work on teaching him initially (and we still do when he tries to push the table out to get to the chairs) but he's just at that age where he was trying to climb it so many times a day that it made it impossible for me to get anything done. So in a few months when we will come back to this lesson when he's ready to listen a little more.
Well, that's it! This is by no means an exhaustive list (each home has its own unique challenges) but this should cover most of your baby-proofing needs. Any questions?
Now for the legal mubmo-jumbo. This is meant to be a general guide for baby-proofing your home and may not provide for all your baby-proofing needs. I am in no way responsible or liable for your child's safety. Please know that all the baby-proofing measures in the world are no substitute for proper supervision.
(Please note: Some of the links in this post are affiliate links, which means that if you click on a link and make a purchase I will receive a small commission. Thank you for supporting the blog! Read my disclosure policy here.)